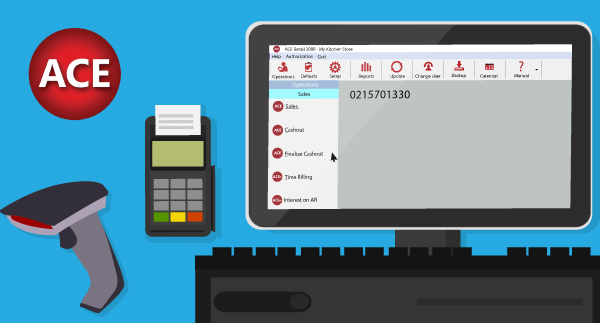 New start-ups and small businesses alike need a Point of Sale system that's practical and won't break the bank. The best POS systems should do much more than just accept payments and process sales. Good point of sale systems designed for retail should include time-saving features such as inventory management, marketing tools, customer tracking, EMV PIN pad integration and accounting management. But where does one start? Read on to learn about the top 6 features you should keep in mind when looking for a retail POS system.
1) Advanced Import / Export Functions
While it seems obvious, it's a fact that there are POS solutions that still exist without proper import / export functions. For any retailer considering a new Point of Sale software, this is a key feature as it determines how quickly you will be able to load your products into a new system and, even more importantly, whether you can retrieve your data should you wish to eventually switch systems. As ACE Retail POS users will tell you, a solid POS will include the option to save import mapping as templates so that you can more easily import standardized spreadsheets such as new product lists from suppliers.
2) Taxation & Exemptions by Department, Products, Customers
Taxes are one of those necessary evils for any business owner. For a retailer, it is a business requirement that can be a headache if not properly managed. Make sure that your POS system includes the ability to manage single and multiple taxes, tax refunds and different types of tax exemptions. Within ACE Retail POS, taxes can be managed and customized by location, department, product or even by customer!
3) Built-In Management Control
Nowadays, data is one of the most important assets of a business. Besides minimizing the need to clean up unauthorized changes made by your staff, you need to be able to control how your employees use your point of sale system. This involves more than just restricting staff from certain areas of the software. You should have the ability to limit what each staff member or group can do within any given area of your system. Besides built-in security and user rights, all versions of ACE Retail POS include optional manager override on discounts which give stores the ability to offer both set promotions and controlled exceptions.
There are nuances to every business that define success. Small business-owners don't have the time to make their business work with their POS. This is where support comes in. While it should be easy to operate and start selling with your POS from day one, a good software will be well supported by local specialists who understand your industry and can quickly customize your point of sale to meet the needs of your existing business.
As credit and debit cards continue to grow in popularity, it is increasingly important for business owners to manage the cost of their monthly processing fees. Merchant services like card processing are an important added value as they offer better cashflow and minimize theft, but depending on the provider, processing fees can easily eat into profit margins. A good POS solution will integrate with many different processors thereby allowing you to shop around for the provider best suited for your business.
6) Return on Investment: Windows-based vs. Cloud
We hear about how affordable trendy cloud-based POS systems are nowadays but what's often overlooked is the fact that cloud solutions require ongoing licensing payments that add up over time, especially when compared to the return on investment of Windows-based solutions with one-time licensing fees.
While there are certain advantages to cloud POS systems such as easier multi-platform accessibility, these advantages cannot overcome the fact that if you compare them feature-by-feature, basic cloud plans still don't have the combination of versatility and robust features that come with established on-premise point of sale systems. In a quality installed solution, the basic version will include the features you need to get a new business off the ground or manage an existing store without unnecessary and often pricey add-ons.
The ACE Retail POS software comes in two versions, either of which can handle all of your retail business needs. The ACE Pro edition gives you everything you want and nothing you don't, starting with the price. As you can see from the graph below, with one-time licensing fees, ACE Pro is a better value than most starter cloud editions, especially when you compare the ROI over several years. And this graph already includes the discounted annual cloud pricing. If you were to sign-up on a monthly basis, your cloud licensing costs would increase by an average 20%!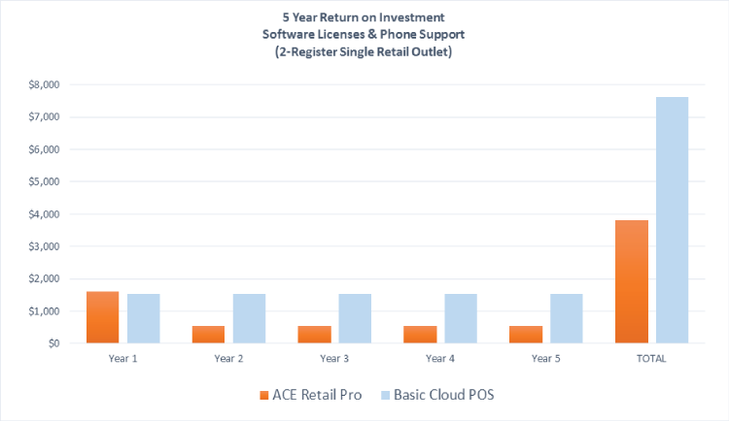 For business owners looking for a dependable, hardworking Point of Sale system, ACE Retail offers a comprehensive bundle of standard features for affordable one-time licensing fees. ACE isn't fancy, but darned if our POS system doesn't get the job done quick and easy. Plenty of other POS systems have their heads in the clouds, but ACE focuses on where it matters most: your checkout counter and your bottom line.