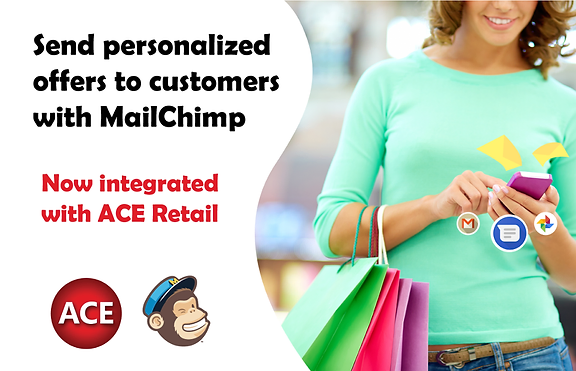 If you manage customers using your point-of-sale system, there is an easy way for you to leverage your existing clientele to sell more during the busy holiday season. While social media marketing and digital ads are popular marketing methods today, if done well, good old fashioned email marketing can have a greater effect at a much lower cost. With our new MailChimp integration, you can leverage existing customer lists within your ACE Retail point-of-sale system to send beautifully designed, personalized messages in the build-up to holidays or store events. To get the most out of email marketing, we suggest you keep in mind the following tips and reminders:
Initial announcements: Make sure you let customers know if you have upcoming special events or offers. Not only does this help to create excitement in the days prior, it will likely sway customers who are already actively looking to consider your store. Don't forget to drive foot traffic to your retail store with in-store only promotions.
Personalized offers: With our new MailChimp integration, you have the ability to filter your mailing lists with your ACE custom fields to send out very specialized offers, exclusive pre-sales coupons or even encourage shoppers to return to your online store for future purchases.
E-Commerce integration: If you currently sell online, all of your pre and post-sales processes should be automated. MailChimp integrates with Shopify and many other e-commerce platforms to handle these types of transactional emails. Make sure to take advantage of these integrations to trigger welcome emails, provide recommendations based on e-commerce and shopper data, etc. You may also want to consider platform add-ons that allow you to target shoppers who have abandoned their carts with follow-up emails to persuade them to re-consider.
Check subject lines, alt-image and links: Before you send out any messages, make sure to double-check that all links work properly, all images have alt-image descriptions (this is the text description for images which shows in place of images that don't load) and that your subject line stands out and clearly states the key offer for your email.
Watch your frequency: Be careful to space out your emails to minimize fatigue as customers that feel that they are receiving too many messages will eventually unsubscribe. Within MailChimp, you will be able to see everything from your open rate (% of the subscribers who have opened emails) to those who have unsubscribed.
If you're interested in learning more about how the ACE Retail point-of-sale system integrates with MailChimp, check out our latest how-to video below or contact us at integration@acepos-solutions.com. To sign-up for a free MailChimp starter account, click here. Happy Retailing!