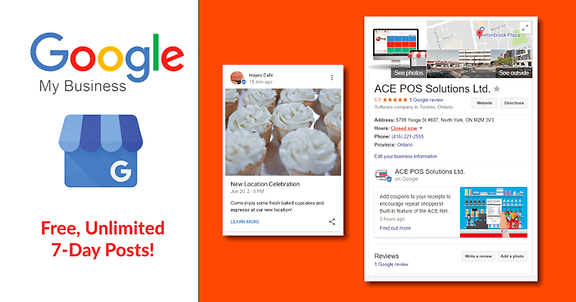 The busy holiday season is upon us now and retailers everywhere are working hard trying to find cost-effective ways to promote to their target audience. So what can you do if you have a limited marketing budget?
Surveys have shown that the majority of shoppers search online before they shop, whether to research products or to locate them. Google My Business (GMB) is a free online tool that allows business owners to verify and submit basic details about their business to Google to improve the accuracy of search results.
Google my Business is the cornerstone of online search marketing as the accuracy of the information on Google will impact how high you rank on search results. Even if you don't create a GMB account, you are most likely already listed as anybody can contribute to Google Maps. This isn't necessarily a problem except that any user can leave a review on Google about your business. If there is inaccurate information or even worse, disgruntled employees or customers set up your listing, it is difficult to remove poor reviews thereafter.
The good thing is that owners can also engage with existing and potential customers using GMB. Besides getting notifications of new reviews so that you can respond quickly, GMB also has free, unlimited 7-day posts which are mini-ads that show up underneath your company listing during any Google search. These ads are a great opportunity for you to:
Drive targeted local search traffic to your store.
Promote new products or offers to shoppers already searching for you.
Once you have logged into your Google My Business account, from the Home page you will see a button to Create Post. Click that to open up the following pop-up window: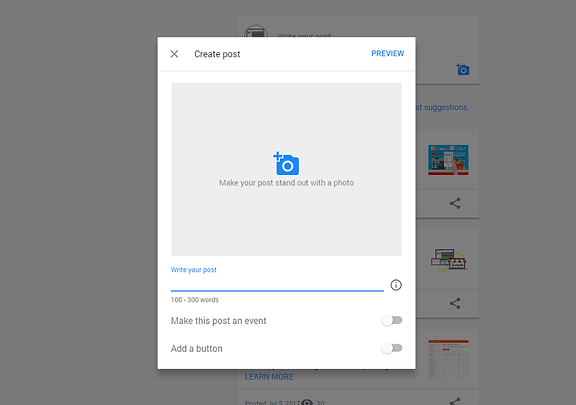 You can upload a Photo, add a Brief Description and add a web site link (Add a button). Make sure to drive urgency with your description (e.g. Limited quantities, offer expires on Saturday!) if you want viewers to act now. To save your post, click Preview and then Publish.
Looking to sell online on Shopify? Click below to learn how you can control all of your online and in-store operations right from the ACE Retail point-of-sale system.