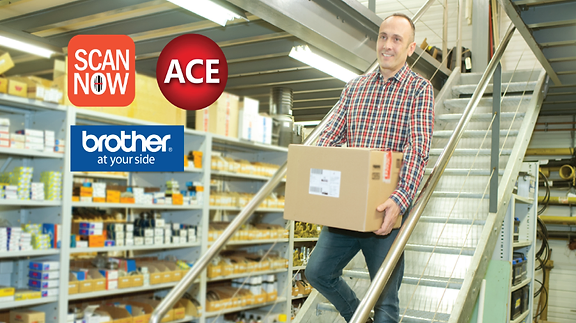 Our new version of ScanNow with brand new features is launching on October 24th!! Besides the current Inventory Count function, this major release of ScanNow brings several great new features and performance improvements including:
NEW Inventory Batch Receiving function with scanned barcodes. This new function allows you to scan batches of received items by barcode using ScanNow on an Android mobile device and post directly to ACE (with the wifi integration add-on) or via email with a CSV file for import. With the integrated option, as long as the item can be found in ACE, you can associate it with an existing Purchase Order or generate a new PO for it when you finalize the receiving.
NEW Ability to Print Barcode Labels directly from ScanNow using Brother RJ-2150 & RJ-3150 mobile printers. ScanNow mobile app users that wish to tag their received items or print missing tags during an inventory count may now print single or multiple labels directly to either of the two Brother mobile printers above via Bluetooth connection.
NEW Navigation Panel inside the app for better user experience.
For ACE merchants already using our Android mobile application, you will need to update via Google Play to be able to utilize the mobile barcode printing function. To be able to utilize our integrated inventory receiving function, active support plan members who have already purchased the ScanNow direct integration add-on will need to update their ACE software. Active members can schedule an appointment for a free ACE update by emailing support@acepos-solutions.com.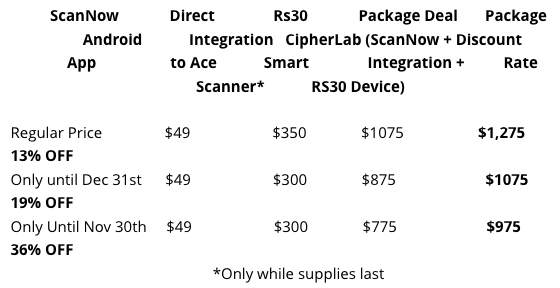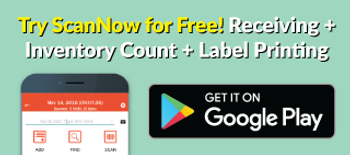 Download a free trial of ScanNow Lite (up to 100 products) from Google Play tomorrow to check out our new features. For ACE merchants interested in the ScanNow-ACE integration or our package deal above, please contact Leila Sahra at Leila@acepos-solutions.com or at 1-855-660-2555.
SUPPORT DISCONTINUATION for Legacy Scanner Devices
The ACE Retail point-of-sale system is an established software with a long history of integration with a broad range of hardware devices. As technology changes, we must also change with the times. Due to the fact that Microsoft has long discontinued the Windows CE operating system and there is increasing incompatibility with current routers, ACE POS is no longer able to support legacy Windows CE scanning devices (e.g. Honeywell Dolphin 6100). For customers that have previously purchased such devices for use with the ACE Retail software, please contact Leila@acepos-solutions.com for more information regarding your options.