As a retailer, card processing (or merchant processing) fees are a cost of doing business. But these costs have grown since the pandemic started as less and less people are using cash today. And these costs will continue to increase as shoppers demand other payment options such as Buy Now, Pay Later (BNPL) which have even higher costs for merchants.
While most US retailers have had the option to pass some card fees on to customers, Canadian retailers have been restricted by their processing agreements and have had to pay these fees themselves.
That has now changed.
Starting as of October 6, 2022, Canadian merchants across the country (except for Quebec) have the option to charge an additional convenience fee (otherwise known as surcharging) if a customer wishes to pay using a credit card.
While some are concerned about the reaction of shoppers to new surcharges in the current inflationary environment, it is important to understand your options and how easy it is for you to start charging convenience fees in your store.
What are my options?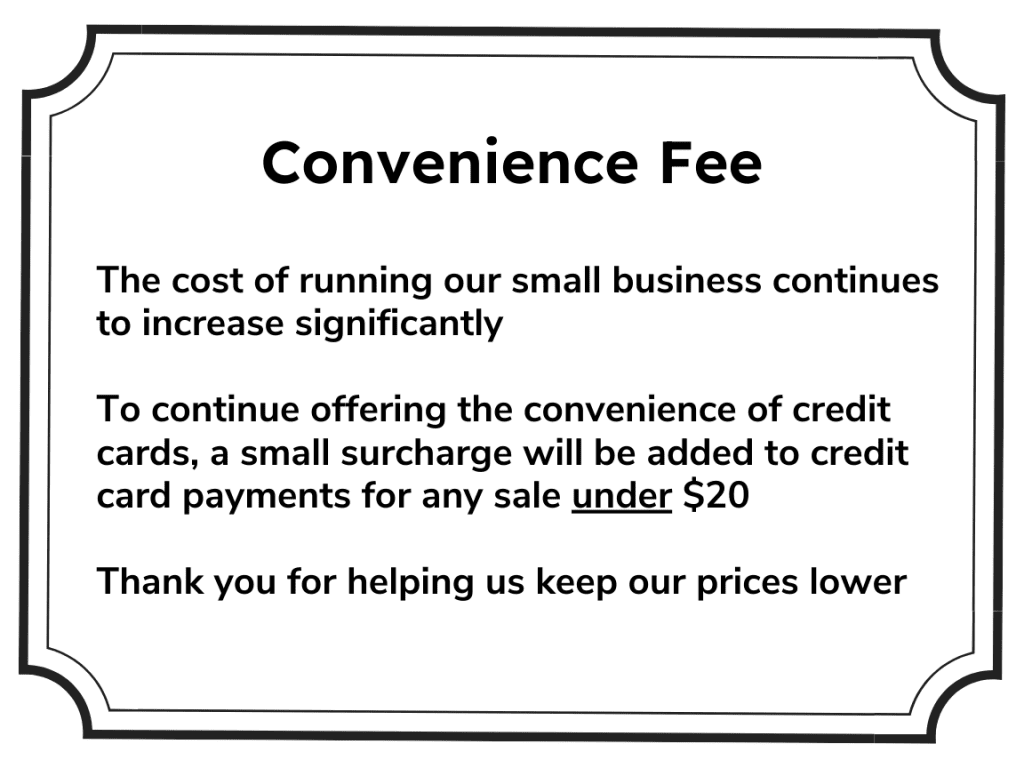 There's no doubt that there are many benefits to accepting credit cards including speeding up your checkout process. And while card usage and card fees have increased, there are different ways for retailers to better manage the costs, including options such as convenience fees.
Different ways in which you can add surcharges include:
Adding a fee to all card payments
Charging a $ or % fee based on the amount spent
Adding a fee to card payments only when a sale is under a specific $ amount
The option you choose would depend on the type of products you sell and the average value of your sales. If you are concerned about the sales impact of adding surcharges, adding a minimum threshold (#3 above) gives shoppers an option to avoid the fees by purchasing a little bit more.
What do I need to consider?
If you are looking to add convenience fees, things to consider before starting include:
Checking with your acquirer to understand what is allowed and to confirm the surcharge cap, which is generally the lower of 2.4% or your processing cost
Making sure that your POS system is able to automatically handle the calculation and printing of convenience fees on receipts
How to inform your shoppers about the new fees to avoid any misunderstanding
ACE's surcharging features
If you are already an ACE user, convenience fees can be set up in a few clicks. As long as you have access to software updates, you will have the ability to easily start surcharging for card payments in your store. Not only do you have the options below, you can even add surcharges to specific tender types.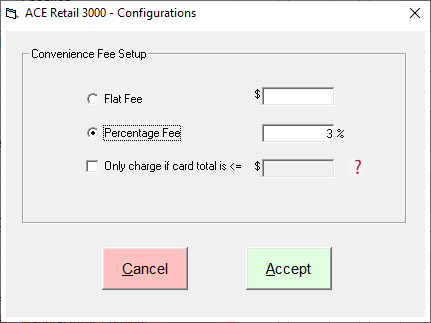 If you are an active support plan member, book a software update today to get access to this new feature! If you are not a current member, contact us at sales@acepos-solutions.com or learn more about how to sign up.