As the saying goes, "showing up is half the battle." And no matter how great your store is, it doesn't help if nearby shoppers aren't aware of what you sell. With ever more shoppers searching online before they even go into a store, it's never been more important for retailers to be found online for what they sell during the "discovery" phase.
It's why we have worked together with our sister company TakuLabs to develop a new integration with Google Ads to help our merchants drive more local shoppers to their stores, right from the ACE Retail point-of-sale system.
But how does ACE drive attract local foot traffic
It's easy – we've enabled an add-on in ACE that allows merchants to use a new integration powered by TakuLabs with Google Local Inventory Ads (LIA). LIAs increase retail store sales by making sure that nearby shoppers who are searching Google for exactly what you have to offer can see what you have in stock, even before they're in your store!
In the past only large retailers such as William & Sonoma have been able to run Google LIAs together with their POS systems to grow foot traffic and sales. With this integration, smaller retailers now have the chance to do the same for as little as $5 per day.
Keep reading to find out how you too, can take advantage of this opportunity to increase your retail sales this holiday season.
Local and Mobile Searches Lead to In-Store Purchases
There are two factors that make Google LIAs so effective:
Local Search:

88% of people who conduct a local search on their smartphone visit a related store within a week

. For shoppers, search is no longer only about finding a certain business. Now, it's about finding an

available

product within a specific area and the

closest

retailer that sells it.

Mobile Search:

The majority of shoppers are searching on their mobile devices for availability or store hours before they even enter a store.

In fact, 70% of mobile owners who bought something in a store first turned to their devices for information relevant to that purchase.
For retailers, this means that there is a lot to be gained by being easily found online. The challenge then becomes figuring out how to give target shoppers the answers they are looking for at the exact moment that they are searching.
This is where Google Local Inventory Ads come in.
Google LIAs helps store owners succeed in these micro-moments – by capturing shopper intent and most importantly, the sale.
What are Google Local Inventory Ads (LIA)?

Local Inventory Ads showcase product and store information to nearby shoppers who are searching on Google. They are different from traditional Google ads as they are designed to drive shoppers to your physical store. While users also have the option of purchasing online (if you have an e-commerce store), LIAs are meant to attract nearby users and only show when a shopper is within a certain range of your store.
When shoppers click on an ad, they are taken to the local storefront page which can be either a Google-powered product listing or your own e-commerce site. Here, they can view other in-stock merchandise as well as important store information such as business hours, directions, current promotions, and more.
Below is an example.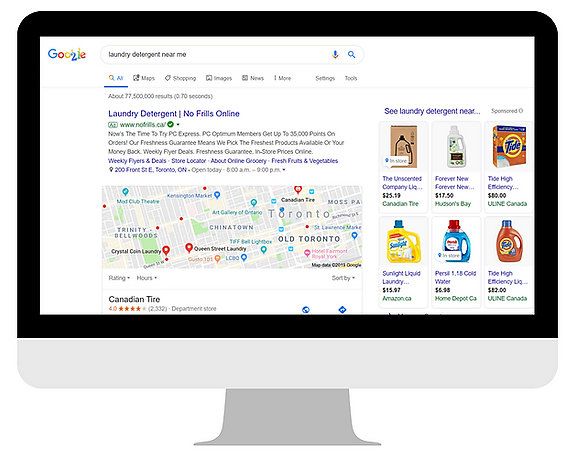 When I search for "laundry detergent near me", Local Inventory Ads appear next to the search results. Both Canadian Tire and the Home Depot are currently running LIA campaigns for laundry detergent (pointed out in red below).
I know that at Canadian Tire and the Home Depot, the items are definitely in stock because of the "in store" label.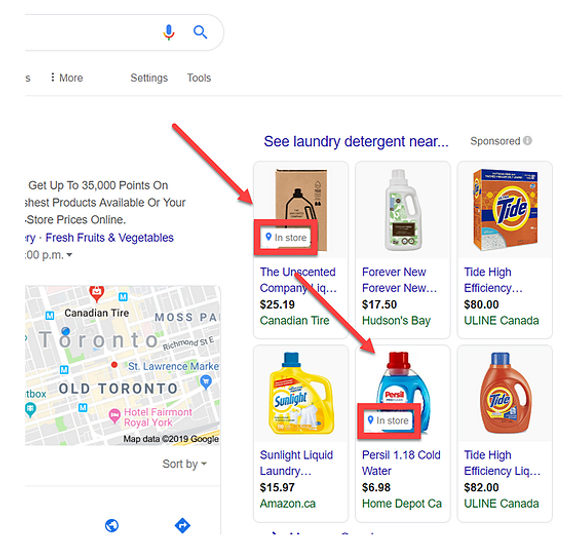 How do Local Inventory Ads Work?
Let's take a look at the example below.
Canadian Tire is looking to increase foot traffic to their physical stores.
So they've purchased Local Inventory Ads hoping to target local shoppers like me. They've set up a Google Shopping campaign that showcases ads to shoppers within a 45 km radius.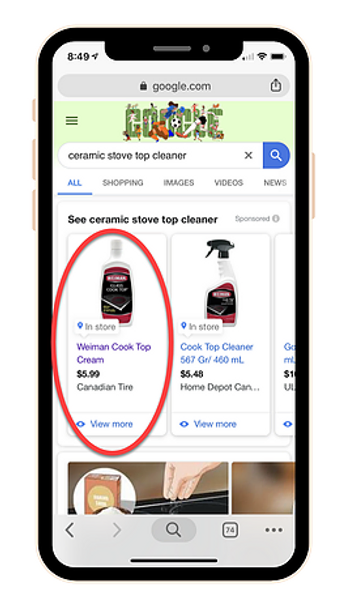 As you can see above, I've made a search on my mobile phone for a ceramic stove top-cleaner. Like most people (87% of shoppers), I frequently turn to a search engine as a resource for product information.
By looking at the search results, I can see that Canadian Tire has what I need in stock and the closest store is only 2 km away.
I decide to head to the store because I am certain that they have the product that I need. A store associate is able to tell me more about the product in-store and even recommends I try out a surface scraper. After my conversation with a store employee, I'm happy to purchase both products.
Key Benefits of Google Local Inventory Ads
Promote In-stock Inventory:

41% of shoppers wish that retailers would do a better job at sharing inventory information. LIAs let local shoppers know that you have the items they are looking for –

at the exact moment that they are searching for it.

The ads even create a sense of urgency and encourage shoppers to act by letting them know when certain items are low in stock.

Advanced Geo-targeting Capabilities:

Target local shoppers who are actually nearby the store and are looking to purchase. Advanced geo-targeting capabilities allow retailers to reach target shoppers within a certain km radius.

Measure Campaign Results:

See how your ads are impacting your bottom line. Monitor the effect LIAs are having on foot traffic and in-store sales – and adjust your campaign bids accordingly.

Gain a Competitive Edge as an Independent Retailer:

In the past, Google LIAs were only available to national retailers. But now, independent retailers have the ability to run high-performing ads on Google with a minimal budget. For as little as $150-$300 per month, store owners have the ability to drive local foot traffic and increase store sales.

Automatic Ad Optimization:

To minimize marketing costs, LIAs automatically turn off when products sell out. Not only does this benefit your bottom line, it also results in a better shopping experience for your customers.
---
To learn more about how the ACE Retail Point-of-Sale system can easily integrate to Google LIAs to increase foot traffic and in-store sales, click here.
#google #localinventoryads #retail #onlinesearch #foottraffic #physicalretail #retailstore