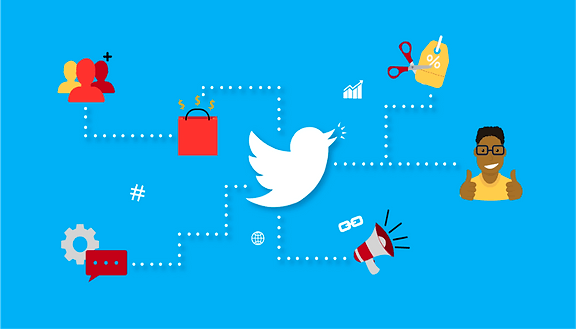 Other platforms typically get attention for being the "selling platforms," but Twitter can hold its own, too. You just have to go about it a little differently. Twitter's engagement is not like other platforms such as Facebook and Instagram, and it isn't the go-to resource for researching buying decisions like Pinterest. Instead, Twitter's selling power relies on the power of conversation and relationship building.
Twitter was built around hashtags, which are clickable topics that allow users to find, share, and jump into conversations they're interested in. As such, it only makes sense that selling on Twitter would be most effective in conversations instead of with sales pitches. When this approach is combined with a few specific Twitter features, you can start sending traffic to your site and driving sales in no time at all. Learn how to use Twitter for business marketing with the following 6 key tips.
1. Build relationships with customers
Building relationships is essential to get and to maintain visibility on Twitter, which is necessary if you want to increase sales. Overtime, this will increase rapport, trust, and the feeling that you value them. As a result, they'll be more likely to purchase over time.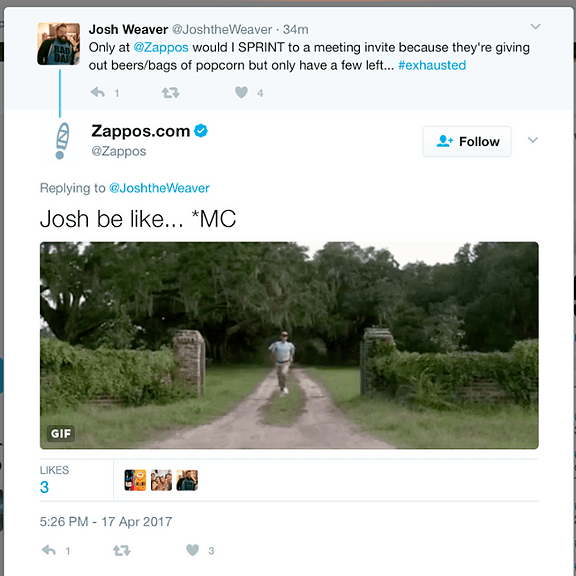 To build solid relationships with your followers on Twitter—allowing you to convert followers into customers— you can't just post tweets into the Twitter void and hope that something comes back out. Instead, share tweets you know your users will be interested in, and interact with them. Share their content, like it, and respond when they retweet or reply to yours. Wendy's has mastered this, and has built solid relationships with customers just by having incredible (if sarcastic) interactions with users on Twitter.
2. Build relationships with influencers
Customers are hugely important, but building relationships with influencers will go a long way on Twitter, too. Big-name influencers can give you a massive visibility boost and a big short term buzz, and micro-influencers can give you some serious credibility. Retweet their content and have conversations with industry peers.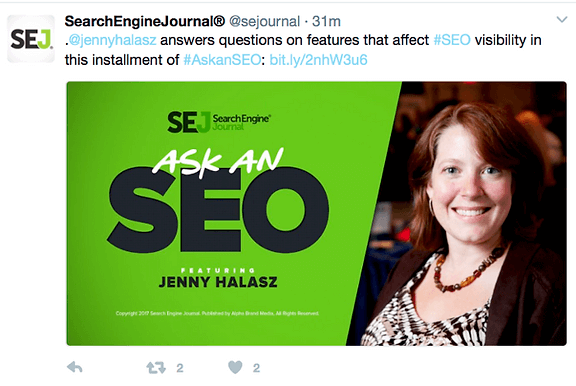 To monitor influencer activity so you can engage with it more often to build those great relationships, you can create a Twitter List of industry influencers you want to keep an eye on. Just check this feed a few times a week and interact with relevant content when possible. You can also use these lists to identify which of the influencers is actually the most suitable for your target market, so if you're reaching out for a paid promotion, you know who to go to.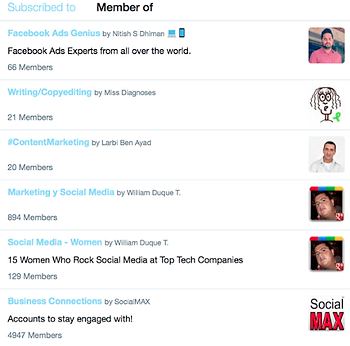 3. Create Twitter moments with UGC
Nothing sells like user generated content (UGC), which is widely considered to be most authentic and persuasive form of marketing materials we can use. The irony, of course, is that we can't create it ourselves. We can, however, compile the UGC our followers create into one incredibly motivating Twitter moment.
Twitter moments allow you to create a "moment," or a thread of tweets of your choosing, that will all be displayed together. By compiling some of the best UGC you can find into a moment, you're curating a powerful selling thread of tweets that can help you drive more conversions.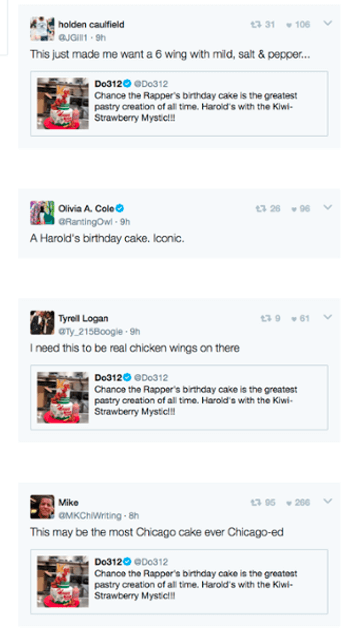 To create a Twitter moment, navigate to "Create a New Moment" on your profile page.

From here, you'll add a title, a description, and a featured image. You can upload an image from your computer, or use an image or video from any of the tweets you use in your thread.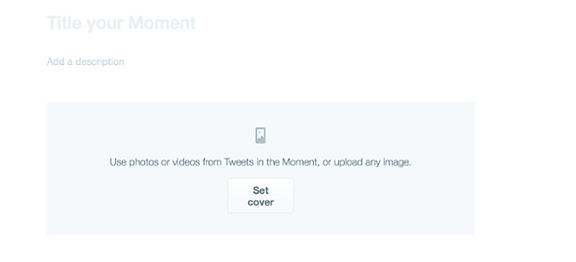 Next, add tweets to your moment. The best way to find UGC relating to your brand is to search for your unique branded hashtag, or to search for mentions. Just click on the green arrow next to the tweets to add it to your moment, and hit "Publish" in the top right hand corner of the screen when you're ready.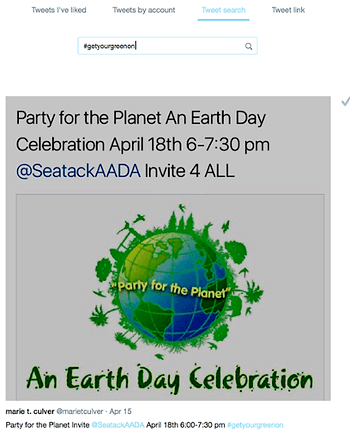 4. Host Twitter-Exclusive Offers
Hosting Twitter-exclusive offers or discounts is one sure-fire way to not only drive conversions on Twitter, but to track them. Share a tweet with a specific discount code unique to Twitter. You could also announce the potential for a discount, and promise users that they'll receive the discount if they retweet the post.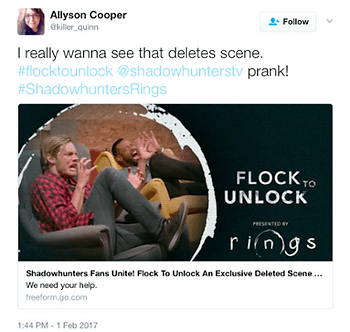 Bonobos has used the "Flock to Unlock" strategy to great success, which rewards an entire community if they're able to get a post retweeted a certain number of times, and it's a great strategy, particularly when used together with in-store marketing to drive more traffic. It gets you additional visibility and nearly-free promotion, drives sales, and can help you move more inventory. It can also help build a community around your brand, even if only for a short time. And since the code is only distributed on Twitter, you can easily evaluate the reach and impact by seeing how many times the offer code is used.
5. Run a promoted Tweets campaign
If you want to a lot more sales quickly, you'll need to expand the reach of your posts, and running Twitter Ads is a great way to do this. While there are three different types of Twitter Ads, Promoted Tweets campaigns are the ones you want to choose if you want to get sales.
Even if the Promoted Tweets don't cause sales right away, they can increase brand awareness and then recognition that you can nurture into sales. Unlike regular tweets, ad campaigns can use more direct copy that's obviously intended to sell.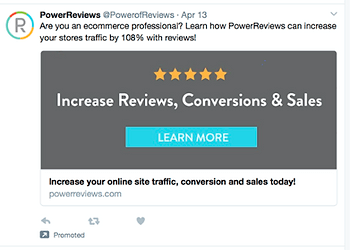 Promoted Tweets can even be used to increase offline sales; a case study from Hubspot found that one account, VentureBeat, used Promoted Tweets to increase offline sales by 29%.
6. Use Twitter's website cards
When you're running those Twitter Ad campaigns, always, always use Twitter Website Cards. These cards let you attach images and additional information to your tweet, which is a huge advantage when you'd otherwise be stuck to a limited character count.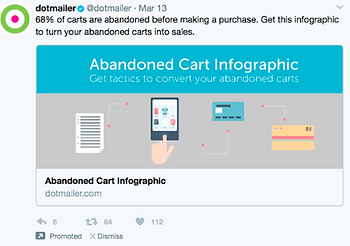 You can add Twitter Website Cards to your campaign in the creatives section when you're creating your Ad. You'll add an image, headline, and a URL to send users to. These cards can be saved and used on multiple campaigns at a later time.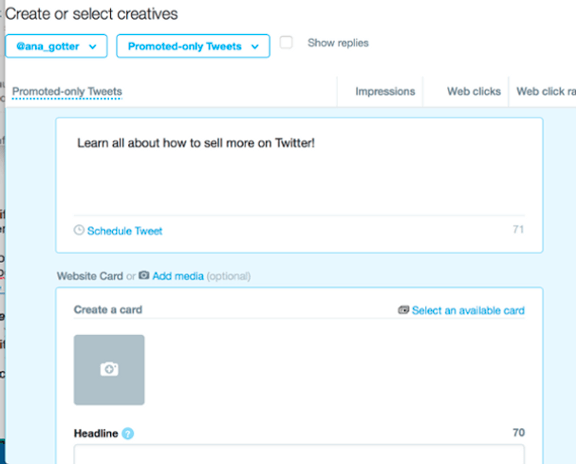 Final thoughts
Selling on Twitter should be focused on cultivating relationships with customers and influencers first, and then cultivating their loyalty in the form of UGC and willingness to engage. Social media in general is more productive when approached as a long, soft sell instead of an immediate hard sell. By using these six selling methods for Twitter, though, you can build relationships, your client base, and increase your profitability all at the same time.