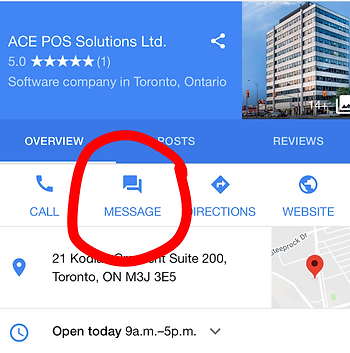 Those of you who have been reading ACE POS blog updates know that we are big fans of Google My Business. For small retailers, it's one of the best small business marketing tools available. But even better, GMB has recently added a new feature that allows you to chat directly with customers right from Google!
That's right, if you are a business with a physical store, customers searching for you on Google on a mobile phone can now message you directly and you can chat directly with the customer from your mobile phone using SMS or via their chat app Allo. The best part? This is a completely FREE feature!
If you don't like the idea of linking your personal mobile number (which isn't published), you can download Google's Allo app to your phone and link it to your Google My Business registered phone number.
This new messanging feature is limited to only Google searches made on mobile phones from Chrome browsers but expansion is said to be in the works. Given how easy it is to use, we definitely encourage small retailers to set it up right away since you only have to do it once to increase engagement and optimize Google search traffic at no extra cost.
To get started, login to your GMB dashboard and click on the Messaging option on the left panel. Click here for full set-up instructions.
Sneak peek – we will be integrating ACE Retail to GMB soon. Stay tuned!
#Google #GoogleMyBusiness #Chat #Messanging #Engagement #MarketingTools #FreeMarketingTools