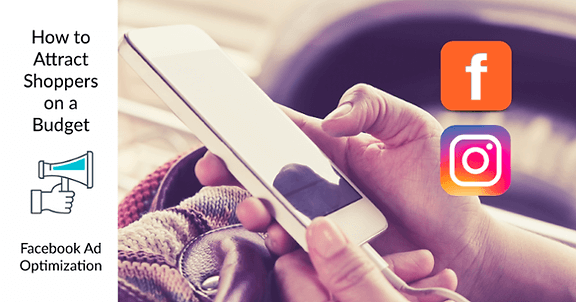 Facebook & Instagram ads can provide incredible results with high click-through rates (CTRs) and conversion rates, but they can be expensive. This is especially true if you aren't sure how to optimize your ads to drive in-store or online sales while keeping costs low.
It's easy to understand why Facebook & Instagram ad costs have gone up; the competition for space in users' feeds just continues to increase, with more than 1 million advertisers now using Instagram Ads, and more than 4 million active Facebook advertisers. There is a way to work around this competition, however, and stand out. Fortunately, if your campaigns are high quality and targeted, Facebook will deem them relevant and prioritize them, often showing them at a lower cost. We're going to show you how to make your ads more relevant and engaging so you can get better results with Facebook and Instagram Ads on a budget.
1. Use highly targeted campaigns
Facebook Ads should never be a one-size-fits-all; instead, you should run highly-targeted campaigns that are created for specific segments of your audience. This will help you create ads and write copy that is optimized for particular niches within your audience, giving them a more relevant offer that they're more likely to act on.
You can break down your audiences into a number of different niches, with categories like how they use your product, whether they're a "warm" or "cold" audience (i.e.: how familiar they are with your brand), and past purchases. The image below focuses on a shared use case of someone (in this case, travelers) who would need a specific set of benefits in their headphones.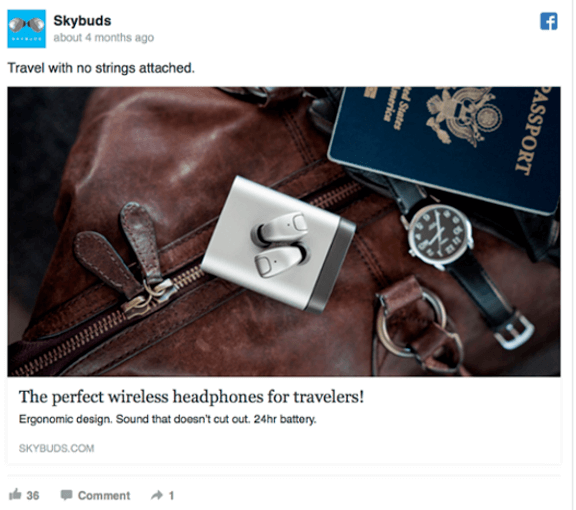 When you run campaigns intended for cold audiences that have never heard of your brand, for example, you could use a video ad that introduces your product to viewers. You could also run a campaign using Facebook's custom audiences to show complementary products to past purchases those users have made. Just remember to be fully aware of the audience you're targeting when creating each ad. This will keep your ads relevant (lowering your costs) and get users clicking (getting you more results).
2. Run retargeting campaigns
Retargeting, also known as remarketing, is a form of online advertising that can help you keep your brand in front of interested but not yet converted social media audiences. Retargeting campaigns typically yield more results (sometimes at a slightly lower cost), because you're showing relevant messages to an audience that is familiar with you, and therefore are more likely to convert.
The two best ways to run retargeting campaigns are: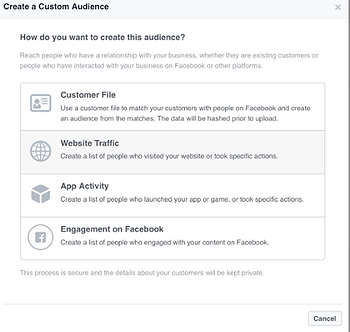 To use custom audiences, which allows you to target users based on an email list you've uploaded, or to target users who have visited your site in a certain time frame.
Under connections, choose "People who like your Page."
If you want to drive sales, you can sell slightly more aggressively on retargeting campaigns than on cold audiences.
3. Watch your relevance score
Your relevance score will directly affect the cost of your Facebook and Instagram Ads. We don't know the exact algorithm Facebook uses to calculate the specific scores, but we do know that positive actions (like clicks, likes, or conversions) improve it while negative actions (like users hiding it or reporting it) will lower the score.
Your relevance score can be found on your Ads Manager, where you can view stats on all your individual campaigns.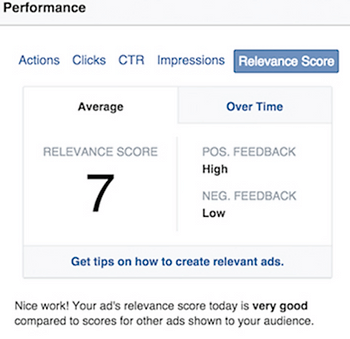 Even if you've created campaigns with the intention that they'll be well received by your audience, watch them carefully. Sometimes we're all surprised by what resonates with our audience and what doesn't, and if one of your campaigns has a lower relevance score, pause it so you can figure out why.
4. Keep your frequency down
Your frequency is a metric Facebook will show you that details how many times the same exact users are seeing the same exact ad. You don't want your frequency to be too high. This makes sense; if users have seen your ad once before and it comes up, they may click again thanks to the increased awareness. If they've seen the same ad four times, however, and haven't converted, they probably won't—at least not on that particular offer. As a result, you could be paying to run ads that won't convert, and won't get engagement. This will cost you money for nothing.
As a general rule, keep your frequency under 3. If it goes up past that figure, change up the campaign or end it and start a new ones.
5. Split test
Split testing involves changing one element of your ads—like the image, OR the offer, OR the headline—and running both to see which is more effective. This used to be a slightly longer process than it is now, thanks to Facebook's new split testing feature.
To use this feature, all you have to do is check the "Split test" box when choosing your objective.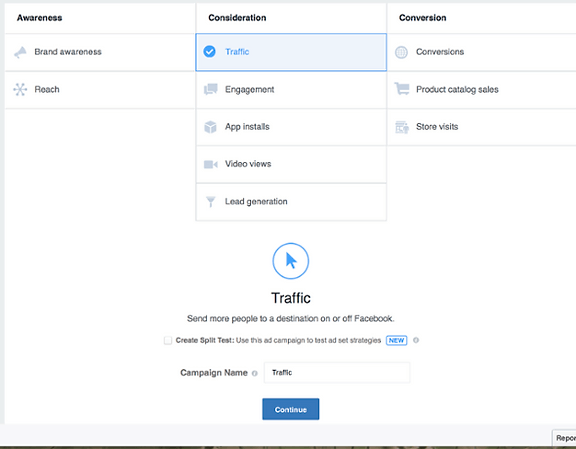 Once you do this, you'll see the "Variable" section added. You can split test different optimization strategies, different audiences, or different placements of a single ad. You'll have to set each manually.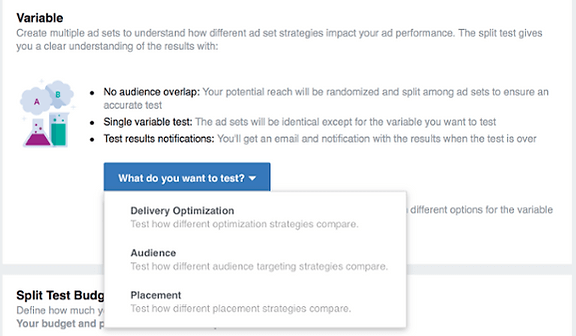 Ultimately, split testing will help you determine what your audience is most responsive to. It also helps keep your ads fresh and interesting, which is always a plus.
6. Never set your campaigns on autopilot
Some of the worst advice is for businesses to just let their campaigns run on auto-pilot, even if they've set end dates. Facebook and Instagram Ads are finicky; they may be doing great one day, and then dropping off two days later. The key is to monitor them closely, watching for things like increased frequency, so you can stop them once they've lived their life. This will save you money, and keep engagement on your campaigns overall much higher.
That being said, it is typically recommended that businesses do set end-dates for their campaigns. That way, if life gets hectic and something gets missed, you don't end up spending tons of money on a campaign you completely forgot about. This is fairly common, so this is a good safeguard to put in place.
7. Try day-parting
Day parting is the practice of setting your campaign to only run at certain times of the day. Ideally, you'll target users when they're most likely to be online and active on the social media platforms. This could help with a surge of engagement, leading to increased conversions. The one thing that you want to be careful of is that the "peak" times may cost slightly more. Since they also have a better chance of conversion, though, it may still be worthwhile for your business.
To schedule your campaigns, you must choose a "Lifetime Budget" instead of a "Daily Budget." Under "Advanced Options," you'll see the option to then schedule your ads. Just click on the time slots you want to have them run, and you're all set.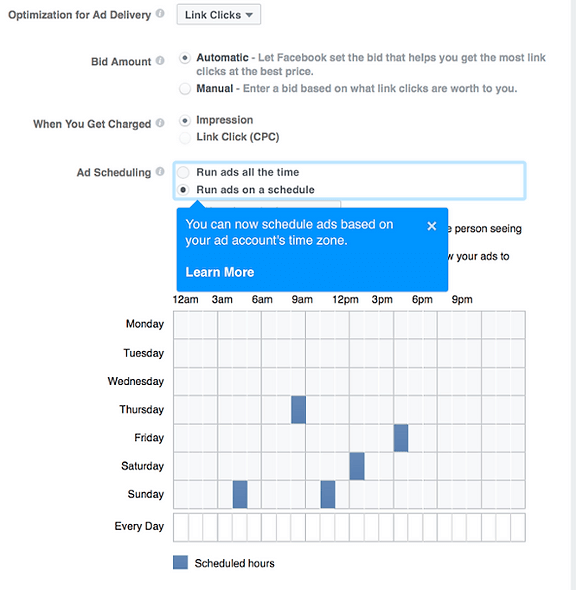 Final thoughts
Facebook Ads and Instagram Ads are expensive—but they don't have to be. With ad optimization, you may be able to increase conversions and bring down costs all at once. The two, after all, go hand in hand.
What do you think? How do you get more bang for your buck on Facebook Ads? How do you increase conversions? Leave us a comment and let us know what you think!
Ana Gotter is a business writer specializing in social media and content marketing. She can be contacted at anagotter.com.