Easy transition to EMV with one, simple integration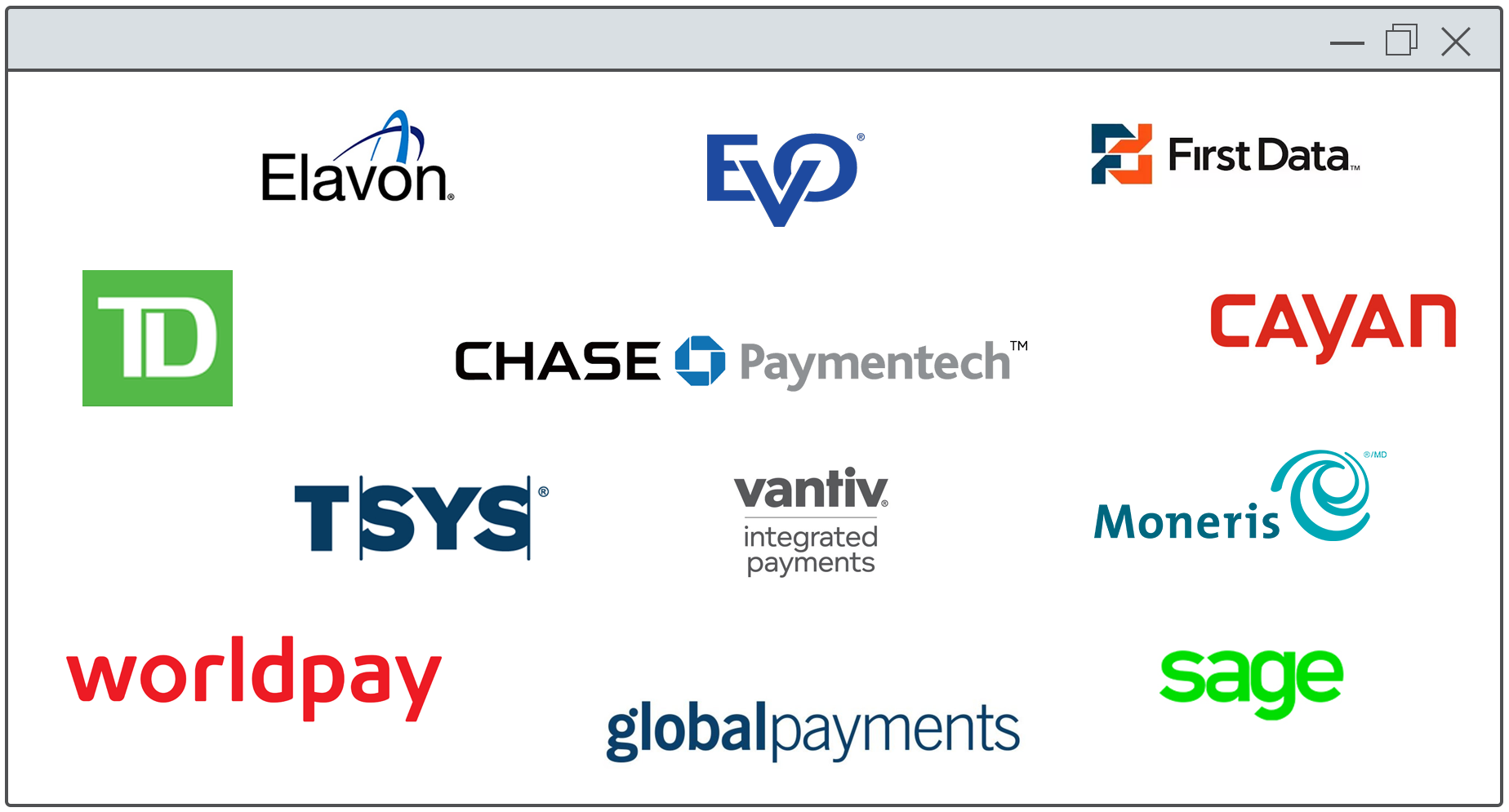 The ACE Retail software is certified to integrate with a broad range of EMV-compliant processors so that you can take electronic payments secure in the knowledge that you are not on the hook for fraudulent charges. Payment processing transactions are always PCI-compliant as ACE Retail is designed and vigorously tested to ensure that only the total transaction figure is communicated to the payment PIN pad and sensitive data such as card numbers are only processed on encrypted PIN pad software and never transferred to your point-of-sale system.
Direct integration with major payment processors of all major credit and debit cards means that if you use ACE Retail, you will be able to choose from a broad range of EMV payment processors including TD Merchant Services, Elavon, TSYS, EVO, Cayan, FirstData, FIS Global (formerly WorldPay / Vantiv), Chase Paymentech, Moneris and Global Payments.
Payment Processors Integrated with ACE Retail Point-of-Sale software
Scroll sideways to read the full table
Payments
| Processor | EMV | US | CAN | PINPADS |
| --- | --- | --- | --- | --- |
| TD Merchant Services | YES | | YES | (NEW) Ingenico Move5000 & Desk5000 |
| TD Merchant Services | YES | | YES | Generation Terminal NOIRE 510C |
| CHASE Paymentech Canada | YES | | YES | Ingenico iCT250 |
| CHASE Paymentech Canada | YES | | YES | (NEW) Ingenico Desk5000 |
| Elavon Canada | YES | | YES | Ingenico iCT250 |
| Global Payments Canada | YES | | YES | Ingenico iCT250 |
| Global Payments Canada | YES | | YES | (NEW) Ingenico Desk5000 |
| Moneris Canada | YES | | YES | Ingenico iCT250 |
| Moneris Canada Core | YES | | YES | (NEW) Desk/5000, V400c, Move/5000, V400m |
| EVO Payments | YES | | YES | Dejavoo Z11 |
| Mercury (Vantiv now WorldPay) | YES | | YES | VeriFone Vx810 (through Datacap's NETePay) |
| Cayan (now TSYS) | YES | YES | | Genius Platform (Genius Countertop & Genius Handheld) |
| EVO Payments | YES | YES | | Dejavoo Z11 |
| CHASE Paymentech US | YES | YES | | VeriFone Vx805 (through Datacap's NETePay) |
| Elavon US | YES | YES | | VeriFone Vx805 (through Datacap's NETePay) |
| FDMS (Rapid Connect) US | YES | YES | | VeriFone Vx805 (through Datacap's NETePay) |
| FDMS (Rapid Connect) US | YES | YES | | Ingenico iSC250 (through Datacap's NETePay) |
| FDMS (Rapid Connect) US | YES | YES | | (NEW) Ingenico Lane7000 (through Datacap's NETePay) |
| FDMS (Rapid Connect) US | YES | YES | | (NEW) Ingenico Lane8000 (through Datacap's NETePay) |
| FDMS (Rapid Connect) US | YES | YES | | (NEW) VeriFone P200 (through Datacap's NETePay) |
| TSYS / EVO | YES | YES | | Ingenico iPP320 (through Datacap's NETePay) |
| Mercury (E2E) US | YES | YES | | VeriFone Vx805, Ingenico iSC250 (through Datacap's NETePay) |
| Mercury (E2E) US | YES | YES | | (NEW) Ingenico Lane3000 (through Datacap's NETePay) |
| Mercury (E2E) US | YES | YES | | (NEW) VeriFone P400 (through Datacap's NETePay) |
| Vantiv US | YES | YES | | VeriFone Vx805 (through Datacap's NETePay) |
| WorldPay US | YES | YES | | VeriFone Vx805 (through Datacap's NETePay) |
| Sage Payments US | NO | YES | | |